Jamaica is like a treasure chest. You've got white-sand beaches, rushing waterfalls, and rolling mountains. There's also the food, music, and history that have captivated the world. All wrapped up in a tiny Caribbean island!
With so many things to do in Jamaica and so many attractions to visit, it's hard to know what exactly to put on your to-do list. Here's a list of 16 things that are totally worth adding to your vacation itinerary!
Beaches
Swim, Snorkel, and Sunbathe at Seven Mile Beach
Location: Negril
Seven Mile Beach is considered by many to be the best beach in Jamaica. You can easily spend the whole day relaxing on this sprawling stretch of white sand!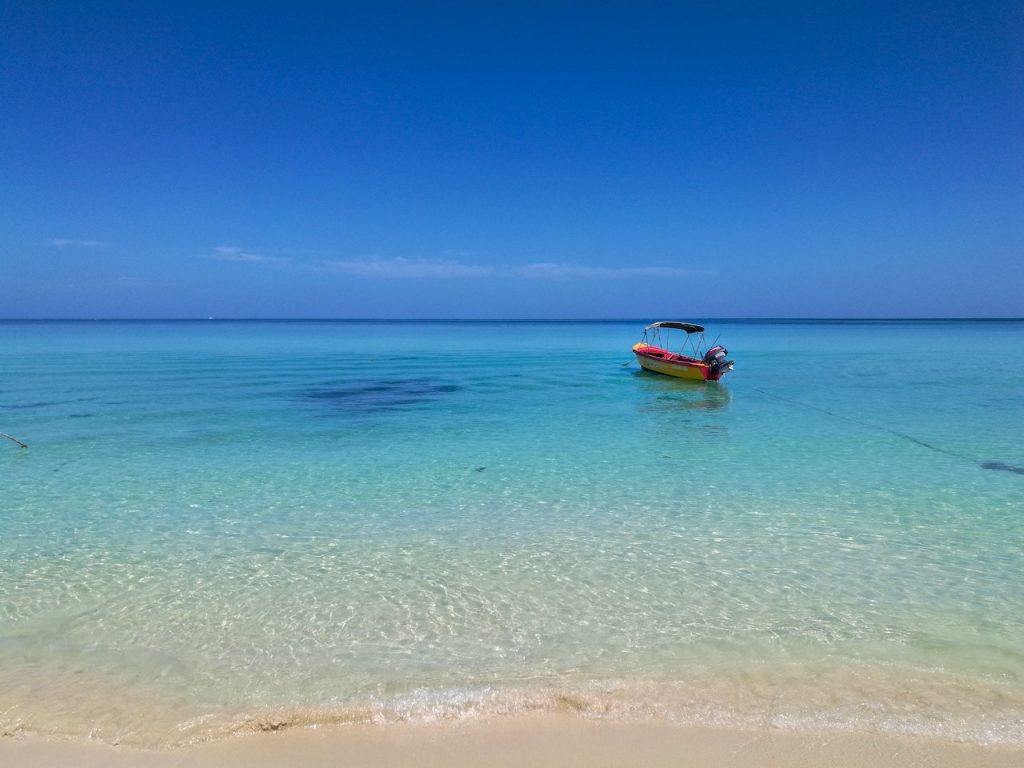 Thanks to the clear, mild waters along this beach, it's also a phenomenal spot for snorkeling. You'll see colorful coral reefs and tropical fish here. When the day's done, you can pop in at one of the many restaurants dotted along the miles-long shore.
Be Healed at Doctor's Cave Beach
Location: Montego Bay
Doctor's Cave Beach helped make Montego Bay the tourist destination it is today. In the 1920s, a famous British doctor claimed that the waters at this beach had healing properties, and the rest is history.
Whether or not that claim is true, you'll certainly feel like you've been healed when you spend a day here! The crystal blue waters and luxurious feel of the beach club definitely make this beach worth a visit.
Connect With Locals at Treasure Beach
Location: St. Elizabeth (southwestern Jamaica)
Looking for a more lowkey beach experience? Treasure Beach has long been one of Jamaica's best-kept secrets, though it's recently been growing in popularity.
Treasure Beach is actually a stretch of four beaches/fishing villages, spanning several miles on Jamaica's southwest coast. These beaches are perfect for lounging and hanging out with a mix of locals and other tourists.
Appreciate the Untouched Winnifred Beach
Location: Portland
For a beach that's even more off the beaten path, head over to Jamaica's east coast. There are some truly amazing hidden gems of beaches here, including Winnifred Beach in Portland. It's an expansive beach with restaurants and bars dotted around.
This beach is equally popular with tourists and locals. The latter have been fighting corporate efforts to build around the area and make it a private beach. Portland's residents have been winning; this amazing, pristine beach is still open to the public.
Natural Attractions
Climb to the Summit of the Dunn's River Falls
Location: Ocho Rios
You can't talk about Jamaica without mentioning Dunn's River Falls! Located just outside of Ocho Rios, this is Jamaica's most popular tourist destination.
The highlight of any trip to Dunn's River Falls is, of course, climbing the falls. You can make your way up to the 180-foot-high summit, zipline back down to the bottom, then recharge at the beach at the base of the waterfall.
Be Bathed in Eerie Glows at the Luminous Lagoon
Location: Falmouth
For a truly unique experience, head over to the Luminous Lagoon near Falmouth. Here, you can see a natural phenomenon that exists in only four places in the whole world!
At night, the lagoon lights up with eerie yet beautiful blue-green patches. This is caused by bioluminescent microorganisms. On a trip here, you get to swim through the waters yourself. The more you move around, the brighter the glow!
Adventure Through the Blue and John Crow Mountains National Park
Location: St. Thomas/Portland
You can find vibrant nature all around Jamaica but the island only has one national park. It's in the Blue Mountains and John Crow Mountains (hence the name) and has been named a UNESCO World Heritage Site!
A visit here is one of the best things to do in Jamaica for nature lovers and adventure-seekers. You can climb the mountain ranges, visit coffee plantations, explore waterfalls, and visit Maroon villages.
Nightlife & Food
Take a Stroll Along the Hip Strip
Location: Montego Bay
Gloucester Avenue (AKA "Hip Strip") is one the trendiest strips in Montego Bay and Jamaica as a whole. This avenue is on the waterfront and is lined with shops, cafés, bars, clubs, and restaurants.
You can shop duty-free in Montego Bay and the Hip Strip is one of the best places to take advantage of this. Pop in at eateries along the strip as you collect souvenirs for your trip back home, then party the night away at a club!
Enjoy Reggae and Booze at Dub Club
Location: Kingston
Good music, good food, good liquor, and a bird's eye view of Kingston at night — what could be better? If you're in Kingston on a Sunday, visit Dub Club up in the hills for a chilled-out Jamaican nightlife experience.
Dub Club is popular with both locals and visitors and is a hub for underground reggae musicians. Take in some authentic Jamaican and Rastafarian culture with a visit here!
Visit the One-of-a-kind Floyd's Pelican Bar
Location: Treasure Beach
Floyd's Pelican Bar is no doubt one of the most unique bars in Jamaica. It's an over-the-water bar, sitting above the Caribbean Sea, a mile out from the shores of Treasure Beach.
Accessible by boat, you can rely on this establishment to be a worthy stop on your trip. Try some local food and Jamaican liquor, then take a dip into the surrounding sea. It's also one of the best places to see the sunset in Jamaica!
Cultural & Historical Attractions
Pay Tribute to the Music Legend at the Bob Marley Museums
Location: Nine Mile (near Ocho Rios) and Kingston
As one of the most iconic Jamaicans in history, it's not surprising that the island has two museums dedicated to Bob Marley.
Nine Mile, in the mountains near Ocho Rios, was Bob Marley's hometown. The house he grew up in has been converted into a museum. The larger of the two museums is in Kingston and is the site of his former home and studio — this is where the magic happened!
At either location, you can take guided tours to learn about Bob, his work, and the greater reggae landscape of Jamaica that he helped form.
Get Wrapped up in Ghost Stories at the Rose Hall Great House
Location: Montego Bay
The infamous Rose Hall Great House is home to many legends. The most pervasive one is that one of the former plantation owners was a murderous witch. You can take nighttime tours of the manor to learn more about the history if you dare.
Beyond the spooky stuff, the Rose Hall Great House is a gorgeous Georgian manor with immaculately maintained, sprawling grounds. There's a golf course and equestrian center onsite, too.
Explore the Wicked Sunken Pirate City
Location: Port Royal (near Kingston)
One of the inspirations for the Pirates of the Caribbean franchise, Port Royal was known as the "wickedest city on earth". It was one of the most important trading posts in the New World, as well as a hub for pirates.
The Sunken Pirate City was destroyed in 1692 by an earthquake but still lives on as a tourist attraction that you can explore by diving!
Broaden Your Horizons at the Rastafari Indigenous Village
Location: Montego Bay
Rastafarians have had a turbulent history in Jamaica, facing persecution early on in the religion's history. Now, Rastafarianism has not only become more accepted at home but is one of the most-loved parts of Jamaican culture worldwide!
The Rastafari Indigenous Village is a cultural center just outside Montego Bay. It was created to share and celebrate everything Rastafarian. You can take a tour here to connect with the Rastafari people, learn about their values, and experience their culture.